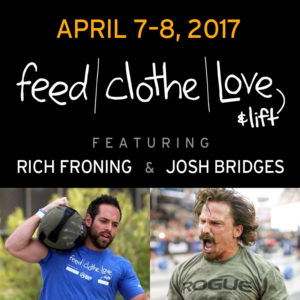 Once again, thanks to the support of Amarillo National Bank, we're bringing in CrossFit legend Rich Froning for a 2 day event April 7-8. This time, he's bringing CrossFit Games legend, fan favorite, and former Navy SEAL Josh Bridges to compete alongside him.
Friday night, April 7, we'll hold an exclusive VIP dinner with Rich and Josh. They'll hold a question and answer session and take pictures and sign autographs with guests. For details and to purchase tickets, click here.
On Saturday, starting at 9am, we'll hold a 4 event competition at the Amarillo Netplex (4101 Hillside Rd). We'll have 40 two-person teams, with both and RX and scaled divisions. We'll also have vendors and food trucks on site. We expect a huge turnout and a really great time. This year, with extra space, we expect a great crowd of close to 500. Admission to view the event is just $5. Kids 5 and under get in free. Read about the workouts the athletes will be performing here.
Bring your family for a day celebrating fitness. All proceeds benefit Mission 2540. We hope to see you there!