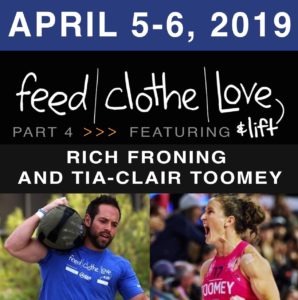 Feed, Clothe, Love, and Lift is back and better than ever! Four time individual CrossFit Games champ and 3 time team champ Rich Froning is returning to Amarillo once again. And this time he's bringing the 2 time defending Fittest Woman on Earth, Tia-Claire Toomey! You and a partner will have the chance to compete alongside these two CrossFit legends on Saturday, April 6 in a 4 event competition. Registration and event details will be available in February
On Friday night, April 5, we'll kick things off with our first ever "Feed, Clothe, Love, and Liftoff." A limited number of participants will have the chance to train with Rich and Tia for an evening, followed by and exclusive question and answer session, photos and autographs. Details will be coming and ticket sales will begin in February.
Want to get in as a sponsor on an event that will attract people from all over the Panhandle (and beyond)? Click here.
We're looking forward to this and know you are too! Follow @mission2540 on Facebook, Twitter, and Instagram to make sure you're up to date as more details are released!