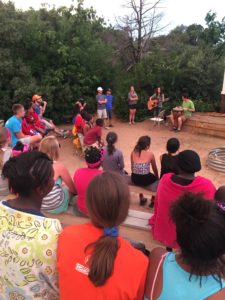 We've got 2 terrific camp opportunities for our kids this summer.
June 19-23, we'll be sending close 10 of our Middle School and High School kids to YFN Camp in Dallas with the Messiah's House Youth Group. Those who have gone the last few years have loved it. It's the one week of the summer they can get away from their every day lives and have some fun, meet new people, and have the opportunity to sit and spend time with the Lord. In addition, they get 3 great meals a day, which is important for them. We're requiring each student to contribute at least $25 toward their camp costs. Some are trying to give even more if they can. Our average cost to send one youth to camp will be $250. We'd love for you to donate part or all of that amount, or even sponsor more than one teen. Your donation will help a teenager enjoy their favorite week of the summer.
Wednesday, July 5 - Friday, July 7, we'll be taking between 40 and 50 of our elementary-aged kids to Hidden Falls Ranch for Camp Awesome, our annual 3-day mini-camp. This is the week the kids talk about all year long. It's their summer vacation and for many, it's their only chance all year to leave the Amarillo city limits. We hike, ride horses, wall climb, swim, roast s'mores, and have all kinds of fun. Hidden Falls graciously donates the use of their facilities and staff. We pay for the meals, bedding, supplies, and provide every camper with a camp t-shirt. We incur costs of about $50 per kid. Any amount you donate will help us provide 3 great meals a day for our kids, snacks, sleeping bags, backpacks, water bottles, and a shirt commemorating the fun (and a shirt they'll wear a couple of times a week the rest of the summer).
Click the button below to donate now! Thanks for your support!