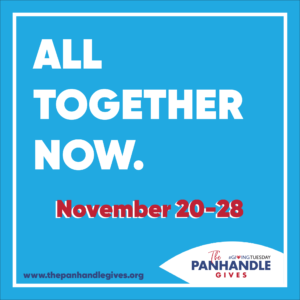 We're proud to participate with over 200 other organizations in the Amarillo Area Foundation's #ThePanhandleGives Campaign, which takes place during the week leading up to Giving Tuesday (Nov. 20–November 28).
During these nine days of enhanced charitable giving leading up to Giving Tuesday, the foundation is hosting online giving pages for organizations like ours. They've also put in place a large amplification fund. Nonprofits that raise a minimum of $250 through their website during this 10 day period can receive an additional donation from the amplification fund.
So any money you donate to Mission 2540 – through our Panhandle Gives fundraising page only – will be amplified based on how much we raise that day. We receive 100% of the funds given that week. Last year, we received around $12 additional dollars for every $100 donated. This was huge for us!
Would you consider making a donation to Mission 2540 through our Panhandle Gives page between November 20 and November 28? If you're a monthly donor, if possible, we're asking you to consider making your November donation during this time frame. If that's not something you can do, don't worry – just continue on with your regular giving. And if you're planning to give this year, we're asking you to consider making your annual gift during this time as well.
If you'd like to participate and be a part of this week with us, email [email protected] and we'll send you a link to our Panhandle Gives page the first day of the campaign.
If you're uncomfortable donating online, bring a check to any Amarillo National Bank, Happy State Bank, or FirstBank Southwest. Write the check payable to "The Panhandle Gives" with "Mission 2540" in the memo line and your donation will be passed on to us. Or bring a check to us and we'll make sure it's deposited. The check must be written out like this for us to receive the funds: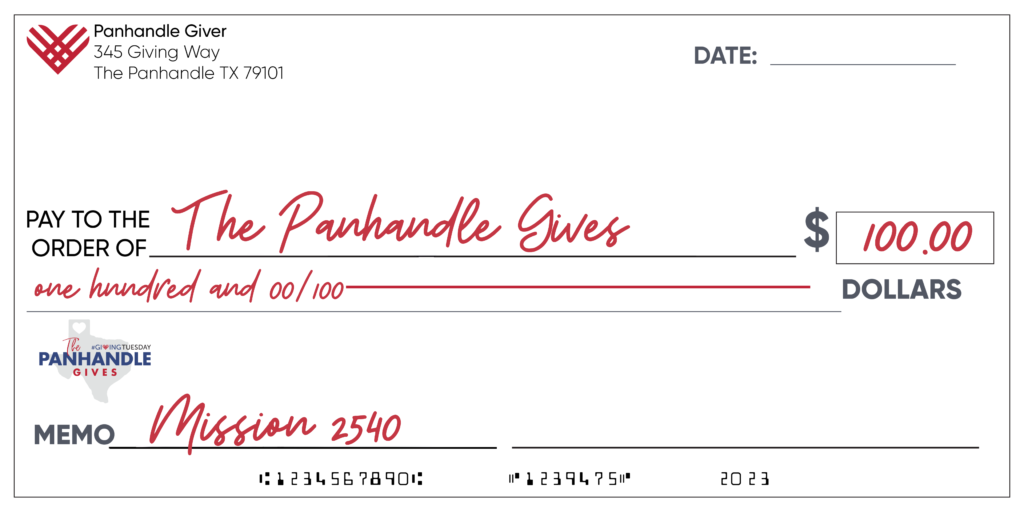 Due to the amplification fund, we WILL receive a greater amount than what you donate! So whether you give that week through Panhandle Gives instead of your regular monthly donation, or as an extra gift, it will be greatly appreciated!